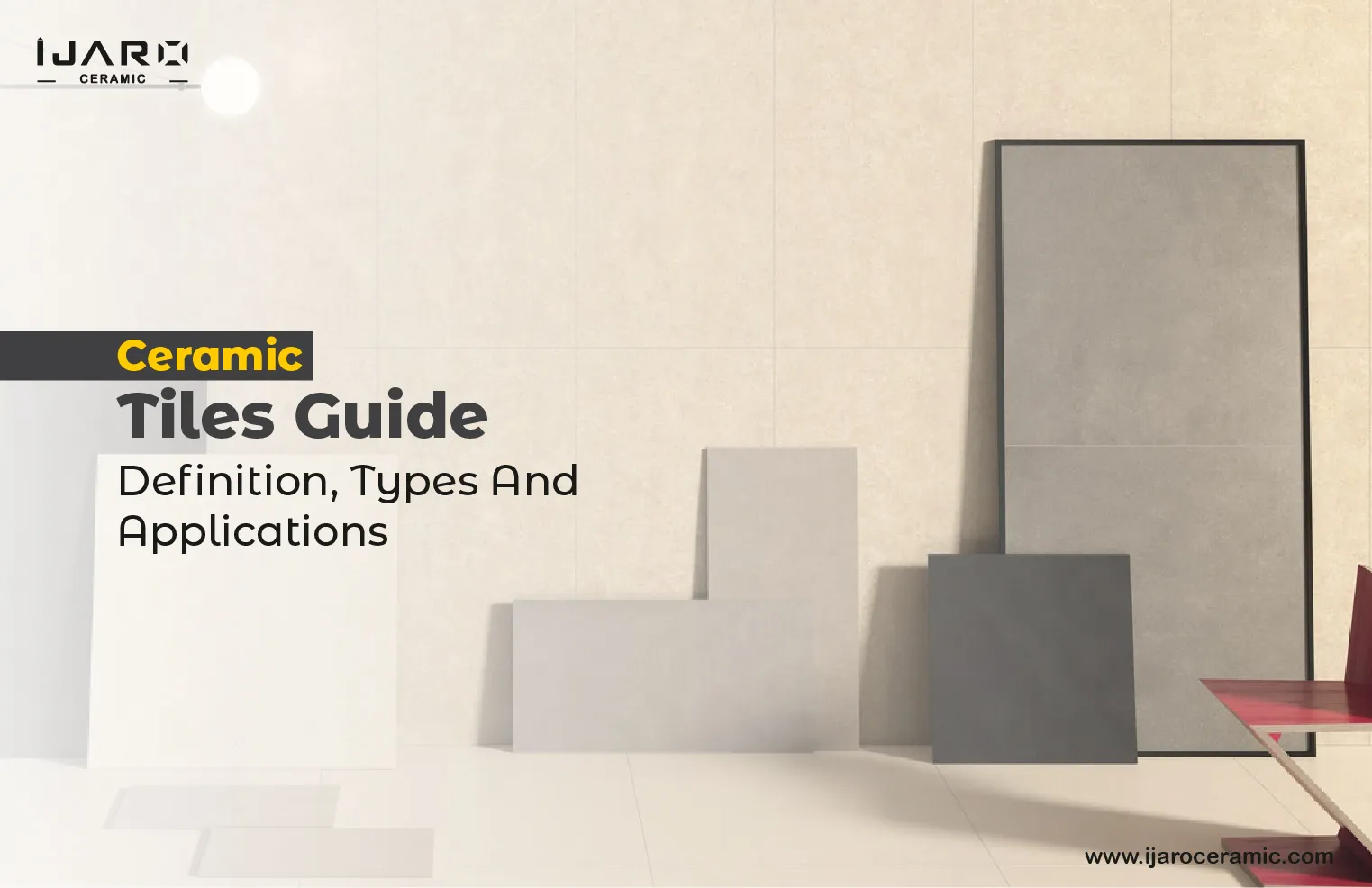 If you're thinking of employing tiles as part of a project to update your home interiors, you'll undoubtedly come across ceramic tiles india . The only type of flooring that really works in every area of the house may be ceramic tile. It is frequently used in bathrooms, kitchens, mudrooms, and other high-traffic areas.
It might be challenging to choose the type of tile you want because of the wide variety of tiles on the market. You won't know the distinction between tiles unless you're an interior designer. Some possibilities can be employed as a flooring solution in low-traffic spaces, depending on the individual type and collection of our ceramic tiles india.
By reading this blog, you may learn the fundamentals of ceramic tiles. We will go through the many kinds of ceramic tiles and some of the greatest interior design applications for them.
What is Ceramic Tile?
Ceramic is a material that is frequently used to make wall tiles, mosaics, and some floor tiles that see less use. Sand and clay are the two primary components used to make ceramic tiles. A variety of raw materials are combined to make ceramic tiles, which are then molded and burned in a kiln to eliminate all moisture and provide a hard, long-lasting surface finish.
If a glaze is used in the tile's design, it is added to the tile's surface just before it is fired in the kiln. As the glaze heats, it hardens into an almost glass-like sheen that serves as both a decorative feature on the tile and a barrier against dirt and moisture.
How are Ceramic Tiles made?
Ceramic tiles can be made of clay or a variety of natural materials including natural red, brown or white clay, marble, granite, slate or concrete that are heated to a high temperature to change to a liquid form and then flattened into sheets to a specific size. The tiles must then dry for a period to increase their durability. Then, the material is prepared to be placed where you want it.
Types of Ceramic Tiles
There are several varieties of ceramic tiles available, and each one offers a unique set of advantages. When choosing the tile that will suit your demands the best, take into account these variations:
Ceramic tiles that have been heated in a kiln with an enamel glaze are known as glazed ceramic tiles. The versatility of choosing a color scheme to complement the design of your area is provided by the use of glazed tiles as kitchen backsplashes, which is another popular application. This product's surface is incredibly smooth, long-lasting and easy to clean, making it perfect for high-traffic areas like kitchens or bathrooms.
Unglazed ceramic tiles are a particular kind of tile that lack an enamel coating. Tiles that are unglazed are ideal for outdoor areas or rooms with a relaxed, natural, or rustic design theme. This product's surface is more porous and could not last as long, but it offers some special advantages like high thickness, durability and slip-resistant.
As was already noted, floor tiles frequently have a matte aspect. Additionally, a the ideal gloss ceramic tile for the interior of your home is also useful for the floor which can make it more attractive. When you find a ceramic tile you like, enquire as to whether it may be installed on the floor. When used as a floor, ceramic tile could be highly durable and thick.
In addition to accent walls and backsplashes, wall tiles are also employed in showers. To last for a longer period of time, wall tiles must be sturdy and water resistant. Wall tiles may provide a truly spectacular design element to a place with their wide variety of tile styles. As with floor tiles, they are available in the same sizes.
Where Can You Use Ceramic Tiles?
Ceramic tiles are a common choice for bathrooms since they are low maintenance and water resistant. One of the most popular options for bathroom walls and flooring is ceramic tile. It resists dampness, endures stains, and doesn't retain bacteria or smells. It's a fantastic option for areas with plenty of traffic.
The kitchen is a wonderful additional location for ceramic tile! For stovetops, counter tops, backsplashes, floors, or walls, ceramic kitchen tiles produce a stunning and sturdy surface. Ceramic tiles are durable and a wonderful option for residential or commercial kitchen designs since they are impervious to moisture, stain, scratch, and fracture resistant and offer an additional layer of protection against damages.
Ceramic tile is long-lasting and built to last! It is moisture resistant, won't scratch, and can bear significant impact. Due to its high level of durability, one drawback is that it can be uncomfortable to walk on and doesn't feel as comfy as carpet in the bedroom. But still, this tile is a good option to use in the bedroom.
A ceramic tile is a sensible option for foyers and entryways due to its dependable endurance. Installing this tile is a wise choice that will keep your flooring appealing and useful for many years to come.
For outside areas like the exterior, garden, patios, pools, and walks, ceramic tiles are a fantastic option. Outdoor ceramic tiles are attractive and strong enough to resist the weather and withstand heavy loads.
As you can see, ceramic tile provides an endless variety of tile design options with exceptional durability to help you make the interiors of your house come to life! These tiles may be utilized around the house to give your interior design concept a dramatic touch of colour, pattern, form, and texture. However, as we've seen in this blog, there are a few considerations to make with ceramic tiles before making your final choices.
Ijaro ceramic is one of the leading vitrified and ceramic tiles india manufacturers located in Morbi, Gujarat. We have become known for providing high-quality and the finest premium tile all over the world. We are a reputable manufacturer and exporter of branded, premium ceramic tiles.