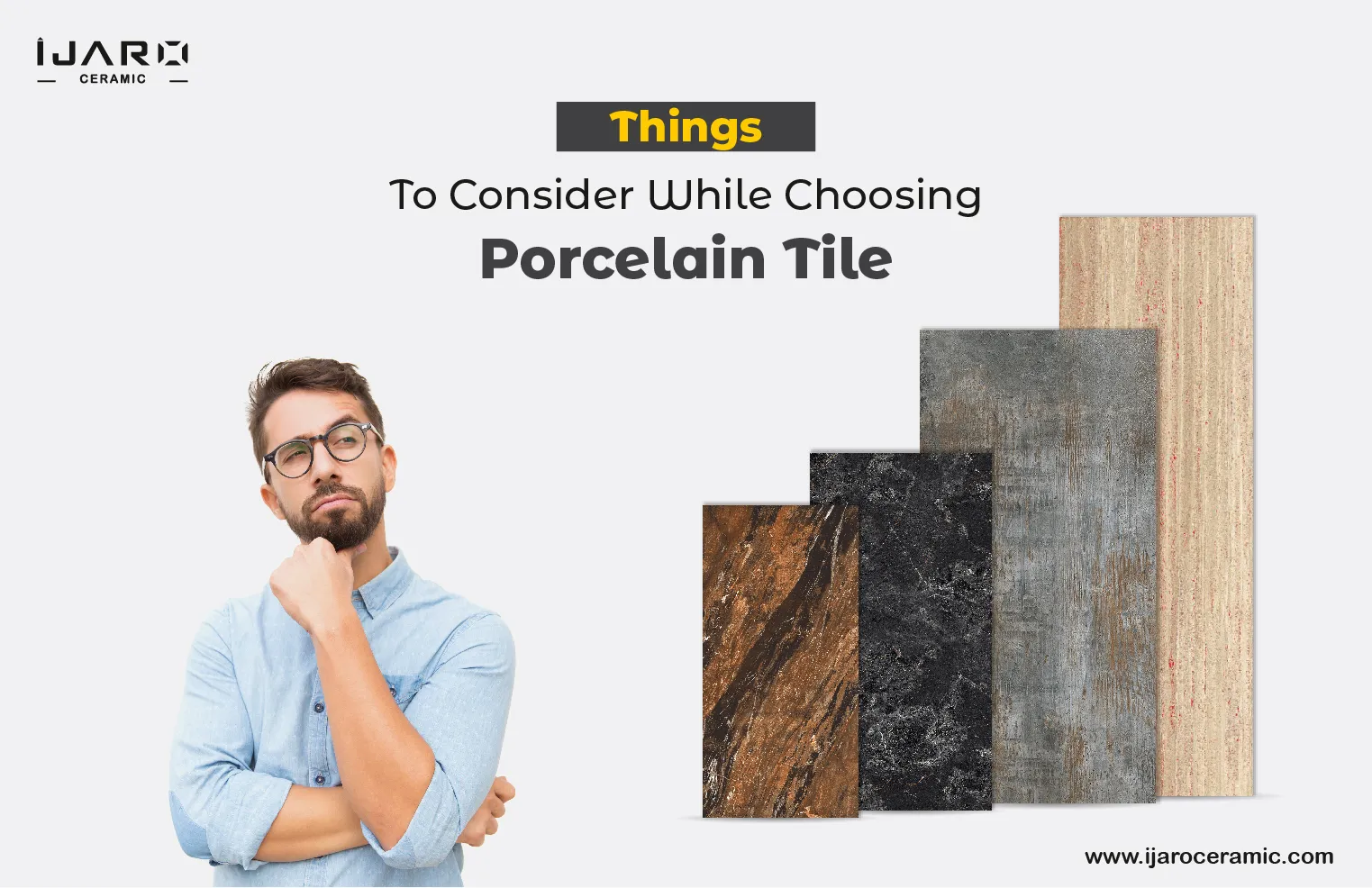 Thinking of renovating your home or brainstorming ideas to create a diverse interior? We at Ijaro Ceramics, porcelain tile flooring manufacturers, are here to help you. Read this article to know what kind of Porcelain Tiles you can use that matches your requirement. But before that, do you know what porcelain tile is? 
What is Porcelain Tile?
A porcelain tile is an amalgamation of water, sand and a special kind of clay known as kaolin and other ingredients like feldspar and quartz minerals. All this together is baked at a temperature as high as 1240°C. These tiles are available in different grades and categories. The grade represents the durability of the tile, whereas the category means overall tile quality. 
Now, let's look at things to consider while choosing the best porcelain tiles from top porcelain tile flooring manufacturers. 
These tiles have become the number one choice for many homeowners and architects in the current decade. It is because of their durability and versatility. Here is a list of metiers you must consider before choosing the best porcelain tile to suit your needs. 
These tiles at the best porcelain tile manufacturing firm are divided into 5 grades: grade 1 is the least durable, and grade 5 is the most durable. If you want to install tiles on your wall, you can go with grade 1, but for flooring, we advise you to go with grade 5 as it can handle the walking and furniture on the floor.
There are mainly two types of porcelain tiles at the best porcelain tile manufacturing firm.
Unglazed Tiles

These tiles give you a matt finish with some texture in the tiles. They are best suitable for bathrooms and non-moisture-prone areas because they are made of dry clay. If you are thinking of a rustic look with non-slippery surface unglazed tiles is perfect option for you.

Glazed Tiles

Glazed tiles are produced by coating them with glass and heating them with fire again. It gives a smooth texture with a shining surface. They are versatile and can get customised as per your design requirements. These tiles are best suited for the living room and outdoor areas for flooring that manufactured by Ijaro Ceramic, porcelain tile flooring manufacturers are the best.
Manufacturers use digitally printed patterns, and you can get designs that complement the interior of your home. If you wish to have a natural design, you must ensure that similar pattern tiles are not placed next to each other.
When renovating your home or brainstorming ideas for a new home, you must always consider your budget. Consider choosing a professional to install tile flooring at your home. No doubt, it may sound costly, but they are worth the cost. Porcelain tiles will benefit you while living in the house because of its easy to clean features.
As porcelain tiles are easy to maintain, but nevertheless you must take proper care of them, so porcelain tiles manufactured by the best porcelain tile flooring manufacturer last long. You must not use harsh chemicals like bleach or ammonia while cleaning, as they can ruin your tiles.
Porcelain tiles are most suitable for high-traffic areas. So if you are considering installing porcelain tiles at mega complexes where there is the possibility of high rush, we recommend you just go for porcelain tiles manufactured by Ijaro Ceramics, the best porcelain tile flooring manufacturer in the country.
We have reached the end of this article. We hope you found this helpful. At Ijaro Ceramics, we as porcelain tile flooring manufacturers, have a vast collection of diverse porcelain tiles that can be suitable for any area, from the kitchen to the bathroom.
You can check out the diverse designs on our website, and if you are still facing trouble, we are here to help you. Drop a mail, and we'll get back to you within hours. We are elated to be a part of your home decor journey.