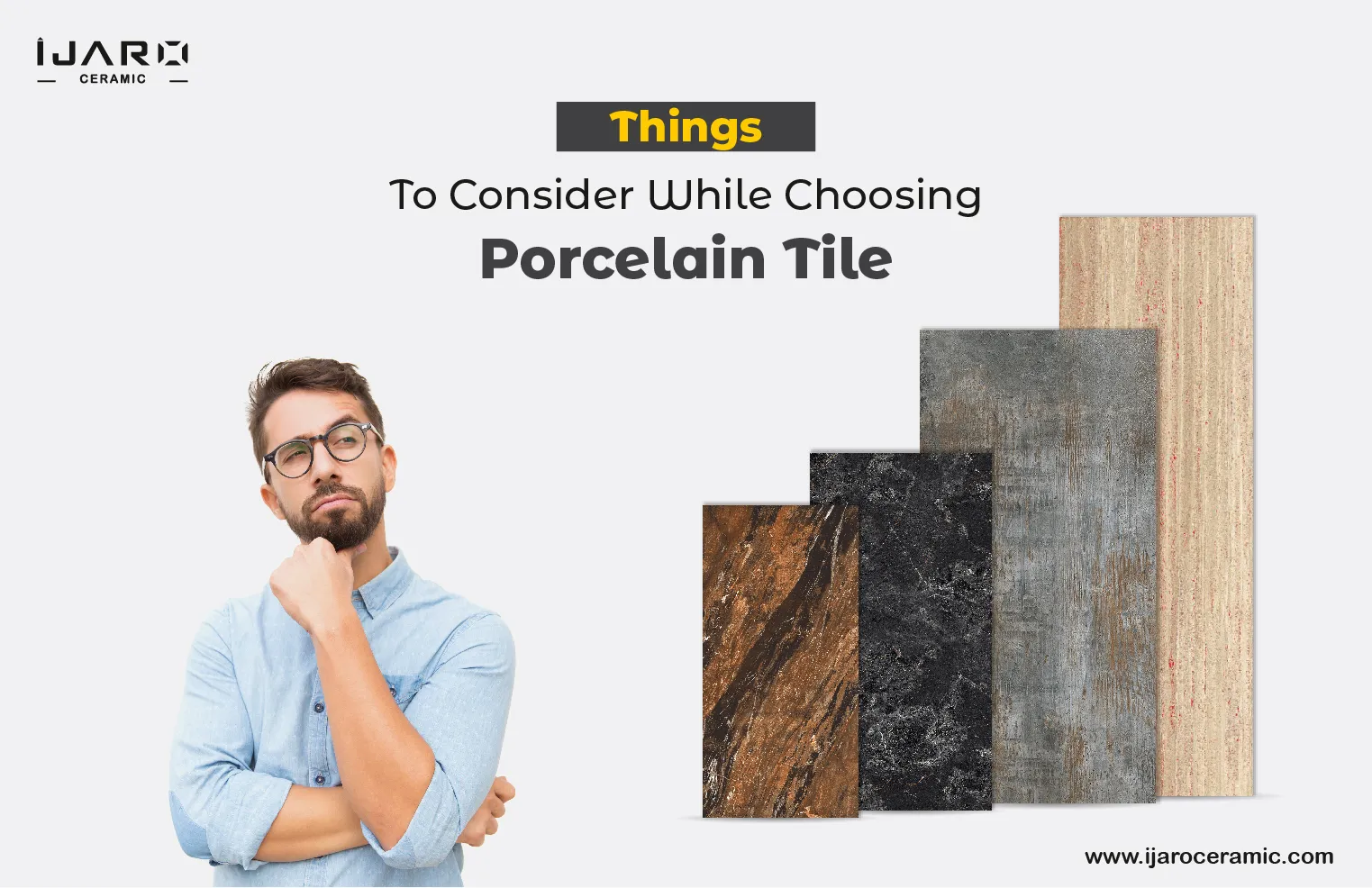 Looking to renovate your home? You may want to give a thought to porcelain tiles. Whether you are planning to renovate your bathroom, kitchen, bedroom, or living room, porcelain tiles are now the ideal choice for a majority of homeowners. tile manufacturers recommend these tiles to high-traffic homeowners who need something durable yet aesthetic. Porcelain tiles have made lots of faces happy by providing exceptional performance and visuals.  
But today the porcelain tile manufacturers have increased a lot in the industry, so how to choose the best one among them? So let's find out how you can choose the best tile manufacturers while choosing the porcelain floor tile to decorate your space with unique character.
What is Porcelain Tile?
Porcelain tiles are a mixture of clay and fine sand particles. This mixture is exposed to a significant level of heat (above 1200 Celsius). The core material and process provide porcelain tiles with incredible strength and versatility. These tiles are often confused with ceramic tiles, but there is a big difference between them. To break the myth, porcelain tiles are much stronger, more durable, and more versatile as compared to ceramic tiles. Additionally, due to being subject to high heat, porcelain tiles are waterproof as well (low water absorption rate of less than 0.5%). The other features of porcelain tiles are as follows:
Long-lasting
Homes are sacred places and hence homeowners are looking for something that doesn't require changing. Porcelain floor tiles are exceptionally long-lasting due to their increased strength. These tiles are durable and do not require maintenance for a long period. These tiles do not lose their luster over time and do not get ruined easily, thanks to the waterproof property.
Waterproof
These tiles do not soak up water like ceramic tiles. Because these tiles are subjected to high heat, they have excellent waterproof abilities. Their water absorption rate is less than 0.5% thus making them fit for bathroom and kitchen applications.
Versatility
Porcelain tiles are popular because of their natural and fresh look. These tiles are available in lots of different shapes, sizes, and designs. Porcelain floor tiles got your backs covered as porcelain tile manufacturers offer a wide range of options to help decorate homes with a personal custom look.
Cost-effective
A rather peculiar feature of porcelain floor tiles is their cost-effectiveness. These tiles offer high-quality performance and last for a long time only at a fraction of the cost. These tiles offer excellent versatility and provide a luxurious look, durability, and resistance all at a reasonable cost. Thus, making these tiles the most popular choice for homeowners.
Pointers for Choosing Porcelain Tile Manufacturers
Now that it is quite blatant that porcelain floor tiles are the most ideal form of tiles for renovating homes. Let us consider some of the pointers that homeowners should keep in mind when selecting porcelain floor tiles and their respective tile manufacturers.
1. Reputation
Opting for a reputable brand, such as Ijaro Ceramics, will satisfy your requirements. Reputation is built by delivering high-quality products and gaining the trust of the customers. Thus, opting for reputed brands will ensure that the tiles you are getting will satisfy your needs for floor tiles.
2. Type of floor tiles
Once you are settled with your choice of porcelain tiles, it is important to understand the bigger picture. Picture the home with designs that reflect your character and personality. Scrutinize your options and select the designs that fit your requirements. Some popular options that are available in the market that we provide are; glazed tiles, double charge tiles, and porcelain slab tiles. After all these determinations, choose the tile manufacturers that make the best tile of your choice.
3. Tile Costing
This pointer depends upon the porcelain and ceramic tile manufacturers. Thorough research and analysis will help you identify the perfect company that you'd like to associate with. So always look for a manufacturer that makes good quality tiles at a competitive price.
4. Material Grade
Grading is an important factor, the concentration of material and porcelain determines the overall qualities of the same. This can be measured using PEI rating (Porcelain Enamel Institute rating). A PEI rating of 1 means the porcelain tile is not durable and a rating of 5 indicates maximum durability. So you must consider this metric while choosing a tile manufacturer.
5. After-Sales Service
There are many tile manufacturers who do not pay attention to any problem faced by the customer after the tiles are delivered or delay in solving the problem. In this case, you can check the reviews of other customers before buying the tiles and then make your decision. Because company services also play a role in opting for the right company. You should definitely pay attention to the quality of the tile manufacturer's company's post and pre-purchase services to avoid future problems.
Porcelain tiles have surged in the market and homeowners are getting satisfied after renovating their homes with these tiles. The primary reason for porcelain floor tiles' success is the features it provides. The above-mentioned points, in the blog, help you to choose the best porcelain tile manufacturers in the market. Leading tile manufacturers have introduced several options in the market thus it is important to scrutinize the options and select the one that best compliments your style and requirements.
Ijaro Ceramic tile manufacturers established in India offers a wide range of collections in porcelain and ceramic tiles for residential and commercial spaces. Our collection is inspired by our customer's preferences and popularity. Our distribution channels are spread all around India and overseas. Innovation and enhanced customer experience are our priorities. State-of-the-art technology is leveraged to deliver a quality finished tiles that are ideal for homeowners and offices.