When it comes to flooring, there are a few main options to choose from Porcelain Tiles, Ceramic Tiles, Wooden Flooring, and Marble. Each one has its unique benefits and drawbacks, so it can be tough to decide which one is right for your home.
In this article, we're going to take a closer look at porcelain tiles and ceramic tiles to see what the main differences are.
Let us first understand what these tiles are.
What are Porcelain Tiles?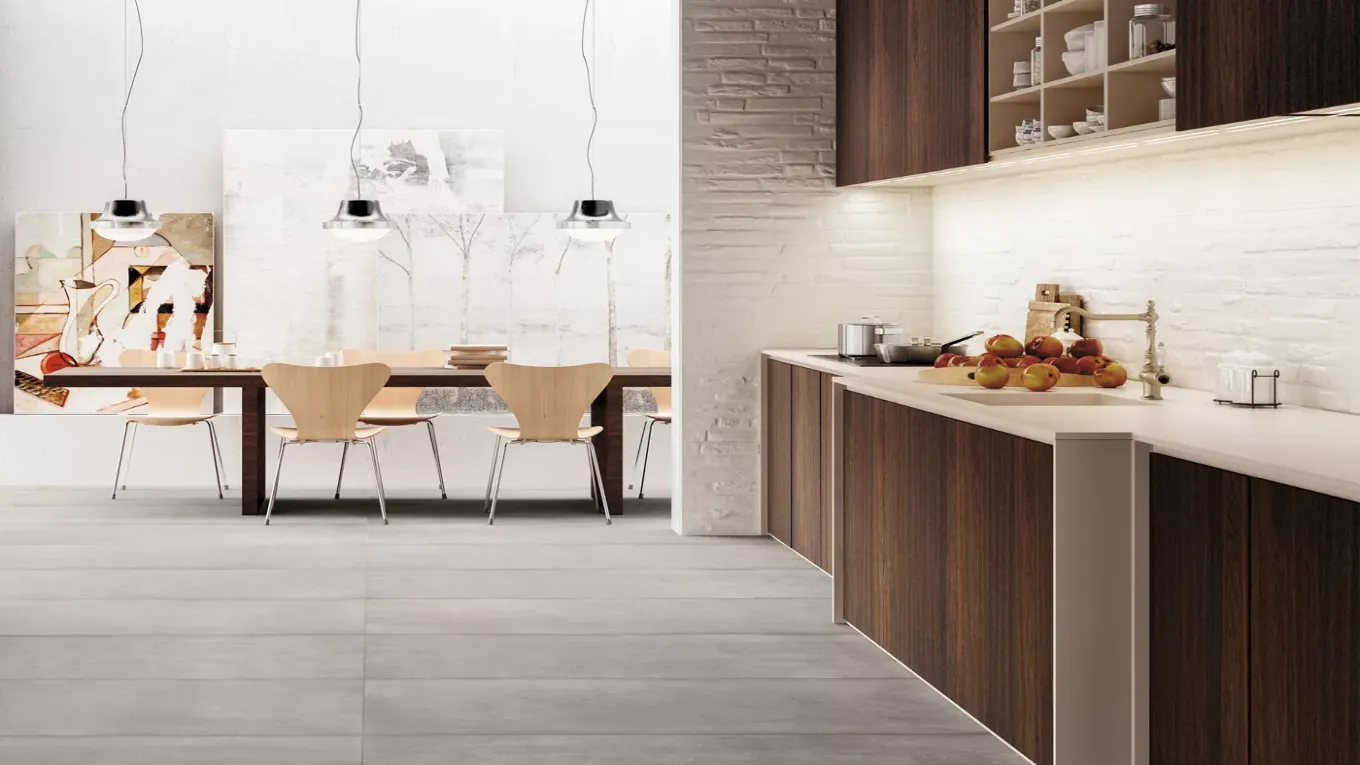 Porcelain tiles are a popular choice for flooring because they are easy to clean and withstand a lot of wear and tear. It is known for its durability and its ability to resist water damage. The waterproofing feature is due to a process called vitrification, in which the mixture of clay and sand particles is exposed to significant levels of heat.
Porcelain tiles offer several benefits/features such as:
- Durability

- Long-lasting

- Low maintenance

- Versatile

- Waterproof
What are Ceramic Tiles?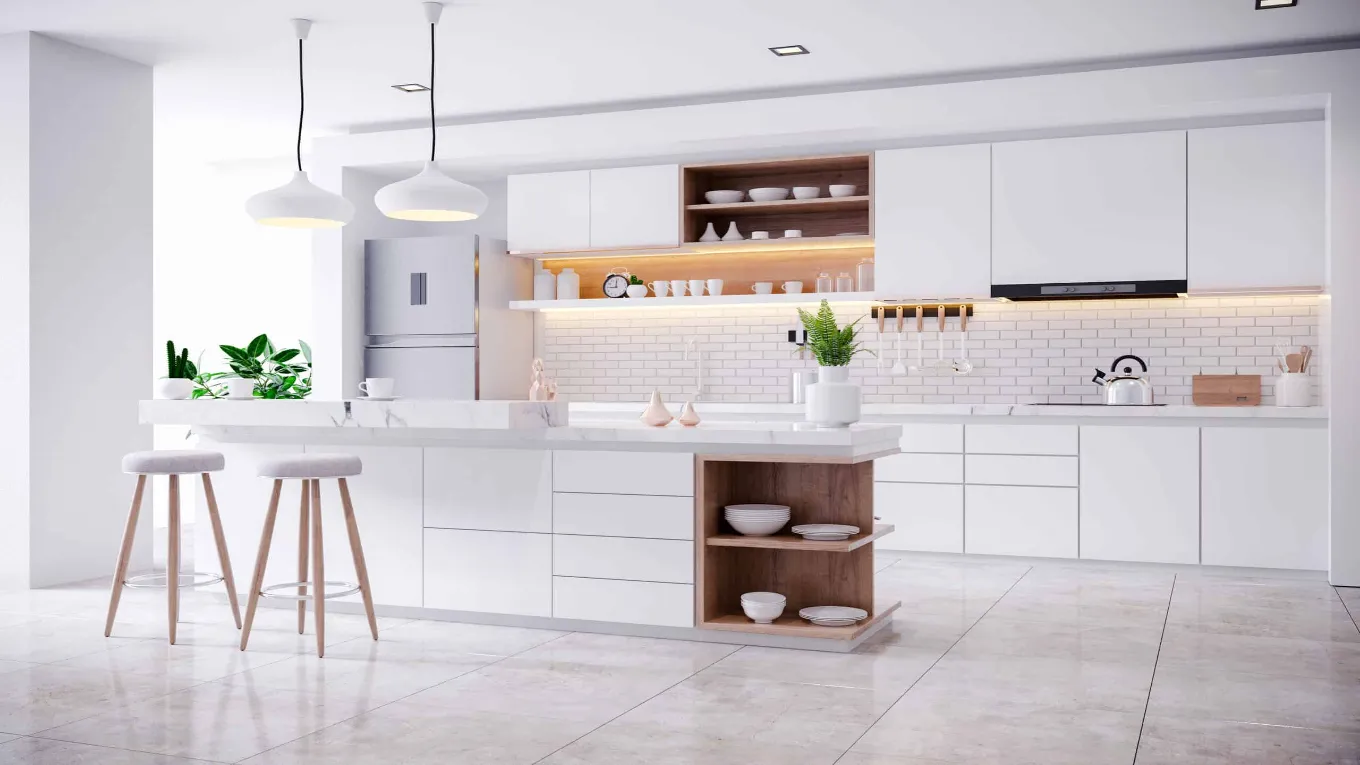 Ceramic tiles are one of the most popular types of tiles in the market. Its popularity is justified because of its long-lasting properties and versatility. Ceramic tiles are often used for flooring and walls because they are durable and easy to clean.
There are many different types of ceramic tiles as they come in a variety of sizes, colors, and styles. These tiles offer properties that are almost equivalent to porcelain tiles for a fraction of their cost.
Ceramic tiles offer several benefits/features such as:
- Scratch and Stain resistance

- High strength

- Lightweight

- Long Lasting

- Fire Proof
Porcelain Tiles vs Ceramic Tiles
There are many differences between porcelain tiles and ceramic tiles. The most noticeable difference is that porcelain tiles have enhanced properties as compared to ceramic tiles. This makes porcelain tiles more resistant to wear and tear, and they are less likely to chip or crack.
Porcelain tiles are also more water resistant than ceramic tiles, making them a better choice for areas that are exposed to moisture. Porcelain tiles are available in a wider range of colors and finishes than ceramic tiles, and they can be used for both indoor and outdoor applications.
A more comprehensive difference between them is as follows:
1. Composition
Ceramic tiles are made up of an inorganic mixture heated up to 1300 degrees Celsius. Ceramic tiles are therefore quite water-resistant. During the glazing process, ceramic tiles are given a certain texture that contributes to their anti-slip properties.
Porcelain tiles are essentially the same mixture of ceramic tiles but with the addition of Kaolin and Feldspar, this mixture is then heated up to 1500 degrees Celsius. These tiles undergo vitrification which provides their exceptional qualities. Composition wise porcelain tiles use refined materials because they achieve their defined properties.
2. Visuals
Ceramic tiles have several different appearances. The authentic color of ceramic can be compromised by adding an external layer of coat or gloss. Ceramic tiles appear soft and soothing with an even surface. The versatility of these tiles is leveraged to coat different designs and colors.
Porcelain tiles are rarely glazed. Even when it is, the original color stays intact. Porcelain tiles are relatively more versatile as they are not confined to color coats. These tiles impart color and designs that are not compromised with time. Porcelain tiles are available in a variety of patterns and therefore justify it being in trend.
3. Cost
Both tiles are relatively well-priced. Comparatively, porcelain tiles cost more than ceramic tiles because of additional components and it requires to be fired at a high temperature as well.
Though porcelain tiles are often confused with ceramic tiles, the key difference between them is the cost. Ceramic tiles are an excellent alternative to porcelain tiles, especially when it comes to saving a couple of bucks!
4. Water Absorption Rate (WaterProof)
Porcelain tiles have an exceptionally low water absorption rate, less than 0.5%, almost negligible. The waterproofing feature is due to a process called vitrification
Ceramic tiles however definitely absorb more than that. Ceramic tiles do not undergo vitrification, therefore they are unable to resist as much water as porcelain tiles. However, they offer great waterproofing solutions and the water absorption rate is not bad at all!
Uses of Porcelain and Ceramic Tiles
Porcelain and ceramic tiles have a variety of uses. They are durable, easy to clean, and come in a variety of styles and colors. They are also affordable, making them a popular choice for many homeowners.
Ceramic tiles are often seen in utilization at small to midsize firms and offices. The reason behind this is that these tiles offer amazing aesthetics and cover great surface area for a fraction of the cost. These tiles are also seen in homes because of their smooth and beautiful finish.
Porcelain tiles are rather popular in commercial buildings and neo-homes. These tiles offer a modern look and thus are popular among aesthetic homeowners and large-size offices. They can be also used for flooring, and walls, and for creating gorgeous countertops.
At the end of the day, both porcelain tiles and ceramic tiles are great options for flooring. They both have their unique benefits and drawbacks, so it's important to weigh all the pros and cons before making a decision. If you're still not sure which one is right for you, consult a professional contractor for advice.
Why Choose Tile Manufacturers?
Leading porcelain tile manufacturers aim to deliver high-quality porcelain tiles. Consumers include wholesale sellers, residential, and commercial settings. Porcelain tiles manufacturers that leverage the latest technology for vitrification, quality control, and provide good service are recommended for purchasing porcelain tiles.
Ceramic tiles manufacturers are not to be underestimated. Ceramic tiles have their own set of applications. The material and process carried by leading ceramic tiles manufacturers are inexpensive yet excel in quality. Commercial buildings, workspaces, lobbies, wholesalers, and retailers make their purchase of ceramic tiles from ceramic tiles manufacturers that offer attractive designs at competitive prices.
Some Factors to Consider
Essentially tiles manufacturers have certain parameters by which they can be compared in the market. As mentioned above, depending upon the requirement you can opt for different manufacturers. Now that we have understood the importance of porcelain tile manufacturers and ceramic tiles manufacturers, let us take a look at some of the "general" points to consider:
1. Good reputation
2. Fast and safe delivery time
3. Reviews and Feedback from reputable sources
4. FAQ and customer care services
5. Experience in the industry
By keeping in mind the above factors, one can make a calculated guess when selecting the optimal tile manufacturers.
In a nutshell
The article mentioned above covers the key differences between porcelain and ceramic and tiles and provides a comprehensive study regarding their uses.
Porcelain Tile Manufacturers and Ceramic Tiles Manufacturers offer high-quality tiles in the market. These two types of tiles are popular in the current market because of their attractive features and versatility. Porcelain tiles are often confused with ceramic tiles; however, they are several key differences between them.
Ijaro Ceramic is one of the leading Porcelain Tile Manufacturers and Ceramic Tiles Manufacturers in the World. Our Ceramic Tiles and Porcelain Tiles are manufactured in India and exported around the globe. We have established a state-of-the-art manufacturing unit that constantly fulfills the growing demand of our supply chain. We continue to add several varieties of tiles to our collection by leveraging crucial client information and innovation.